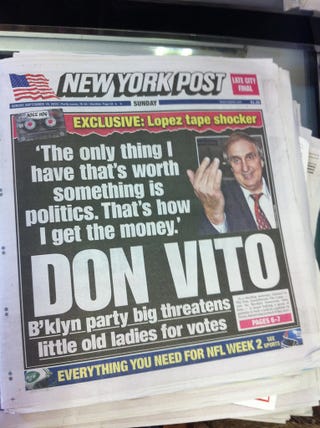 Supremely gross ex-Assemblyman and Brooklyn Democratic boss Vito Lopez has spent a whopping $177,724 in just the last 6 months, all of it from his campaign fund, defending himself against charges that he's a grope-y creep who sexually harassed a number of former female staffers.
Ex-Brooklyn Assemblyman Vito Lopez's sexual harassment scandal is netting big paydays for his lawyers — and the former lawmaker is using campaign cash to pay for them.

Lopez's latest financial statement showed $177,724 spent on lawyers over the past six months, leaving his campaign account with a cash balance of $591,891. The legal bills were the only expenses Lopez listed.
That's a lot of money and none of it is Vito's. But this is New York where politicians regularly use their campaign donations to defend themselves in court.
When we last heard from Vito, he was trying his best to avoid being deposed in the suit filed by his former staffers and doing everything he could make sure you didn't know he was doing it.