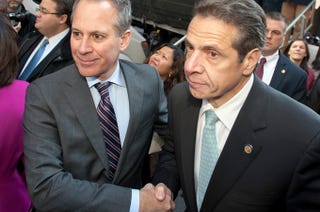 Eric Schneiderman has asked the Cuomo administration to allow the Attorney General's office to investigate and prosecute cases of police violence, removing those duties from local district attorneys. A Cuomo spokesman says that the governor is reviewing the request.
Gov. Cuomo is reviewing Attorney General Eric Schneiderman's request that the AG's office be allowed to investigate and prosecute cases in which cops kill unarmed civilians.

In a letter Monday, Schneiderman asked Cuomo to use his executive order powers to grants the attorney general's office jurisdiction to handle such cases, instead of local district attorneys.

In a statement, Cuomo spokeswoman Melissa DeRosa said the governor is reviewing the request.

"When people begin to lose faith in the criminal justice system, reform must follow," DeRosa said. "As the governor said, meaningful change will require thoughtful dialogue and a real top to bottom review with criminal justice experts, community stakeholders, and police, prosecutorial and judicial representatives. We are reviewing the Attorney General's proposal as we pursue this broader approach that seeks to ensure equality and fairness in our justice system."
Having the AG handle such cases is definitely better than the status quo, but probably not as good a solution as handing these cases directly to special independent prosecutors. Those prosecutors aren't likely to happen anytime soon as the NY Senate GOP has already pronounced the idea DOA in their chamber.
And don't get your hopes up about Cuomo actually granting this request. The governor may want to try to muscle something through the Senate so as to play the hero at a time when he could really use some good press. That's probably the only way something meaningful happens because it's highly unlikely that Cuomo signs off on ceding to Schneiderman, who he despises (and the feeling is mutual) and his office any more power to do anything.
Cuomo regularly sought to expand the power of the AG's office during his stint as our state's top law enforcement officer. He's been trying to take all that power ever since he left that gig.
No way he hands Schneiderman a victory, even if it means denying meaningful justice for victims of police violence.
Sad, but true.
Follow The Albany Project on Twitter and Facebook.
(image via NY Post)