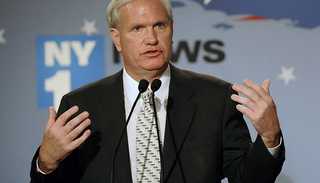 Queens State Senator and former Democrat in good standing, Tony Avella, announced yesterday that he's "standing" with noted dick and human leather tannery, Jeff Klein and his merry band of fake Democrats.
"Let there be no confusion: I stand with the IDC," Avella said in the statement. "While I'm greatly disappointed with the overall results of the election, I look forward to continuing to work with my IDC colleagues in the upcoming session."
Avella made his announcement even after Klein made known his intentions to beg GOP Majority Leader Dean Skelos to keep his IDC's committee chairmanships and the lulus that go with them. Klein is siding with power. And Avella is siding with Klein.
Speculation about Avella's fate with the IDC began after Bronx Sen. Jeff Klein, the leader of the IDC, told NY 1's Zack Fink Thursday that he would look to form another coalition with Senate Republicans. In June, Klein had pledged to team with Senate Democrats if they won enough seats to give the party a majority.

Following Klein's remarks Thursday, insiders began circulating an August story from the Queens Tribune in which Avella told a Bayside Forum that he would leave the IDC if it broke its comments to caucus with the Senate Democrats in the coming session.

Avella on Friday said his comments at the forum were taken out of context.

"In reference to an alleged statement that was taken out-of-context, for the record, my comment at the time was, 'If the Democrats can have a majority with the IDC and we don't go back, than we're not Democrats. And I'm a Democrat," he said in the statement.
Sure, Tony. Whatever. Good luck with that in 2016, pal.
This is especially disheartening because before Avella joined the IDC circus of suck, he was regarded as a pretty firm progressive on most issues, especially the issue of fracking. Many assumed that his defection was motivated by some sort of Quixote-esque desire to fight fracking in New York with the slightly less tenuous grip on power in the state Senate that inclusion with the IDC brought. After seeing that that was a pipe dream, it was hoped that he would come to his senses. So much for that.
Plus, it has been rumored for awhile now that Avella and Carlucci were on their way out of the IDC no matter what. We now know where Avella stands and I wouldn't put any money on Carlucci developing a spine any time soon either.
Meanwhile, Klein's primary opponent, a noted dick himself in many ways, Oliver Koppell, offers as about as a concise a critique and catalog of Klein and his IDC's recent history as you are likely to ever hear from a politician.
"Klein has again demonstrated that his motivation in forming the IDC was never about an idealistic bipartisan State Senate—it was about personal power," Koppell said. "Let's not forget that the Democrats won the Majority in 2012. Senator Klein's partnership with the Minority Republicans stripped the Senate Democrats of the Majority and put it squarely in the hands of Skelos and Klein. That power was used to deny New Yorkers an adequate increase in the minimum wage and passage of the Women's Equality agenda, the DREAM Act, GENDA legislation, a moritorium on fracking, and campaign finance reform with public financing.

"Klein handed the Majority to the Republicans which enabled them to raise the millions of dollars that funded so many Republican State Senate victories on November 4th," he continued. "Klein now seeks to continue to increase the power of Skelos and Senate Republicans at the expense of fellow Democrats."
Pretty much. And now Tony Avella has endorsed this strategy not once, but twice.
Again, good luck with that in 2016.
Follow The Albany Project on Twitter and Facebook.
(image via Capital NY)